Mrs. Lindsay Hansen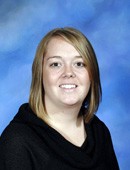 My name is Lindsay Hansen. I obtained my Bachelor of Arts degree in American Studies and Elementary Education certification from Dominican University in 2009. I am currently pursuing my Master of Arts in Education with reading specialist certification through Dominican University. I began my career at St. Ferdinand during the 2009-2010 school year. In addition to teaching, I enjoy coaching cheerleading and moderating after school clubs. I am blessed to have the opportunity to work at St. Ferdinand and love the family environment at our school!
---
From First grade's Life
Each year first grade has the special opportunity to lead our school in prayer for the Feast of Saint Francis. The students create posters of pets and animals and ask God for guidance to care for these creatures as well as all of God's creation. Brother James preached to us about Saint Francis' life and works for the church with the help of his young Saint Francis helper, this year played by Nathan Biasbas. All of the first graders lead the congregation in song with favorites such as "Jesus Loves Me." In addition, some of the first graders read the prayers and brought up the gifts. Finally, the animal posters were blessed in a special ceremony. It was a beautiful Mass!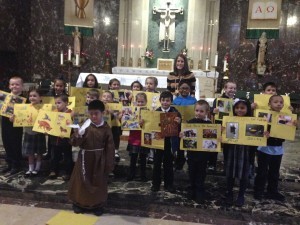 The first graders engage in many experiences to explore their creativity and learn about many new topics.  As you can see, they are very passionate and dedicated to their studies!
.