Mrs. Corrie Rettelle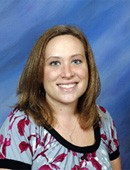 Hello! My name is Corrie Rettelle, and this is my 15th year teaching kindergarten at St. Ferdinand School. I graduated from Concordia University with a Bachelor in Arts Degree in Elementary Education. After teaching one year of kindergarten, I was hooked! I absolutely love being a kindergarten teacher, and wanted to give my students the best that I could, so I went to graduate school. I received a Master of Science in Early Childhood education from Dominican University.
When I am not with my St. Ferdinand family, I am a proud wife to my husband JJ and a mommy to my three year old son Greyson and 6-month old daughter Jocelyn. We live in Chicago, but love going to Lake Geneva!
I am honored and blessed to be a part of St. Ferdinand. I truly believe that Catholic school helped to shape who I am as a person, and I am grateful to have the opportunity to continue that tradition.