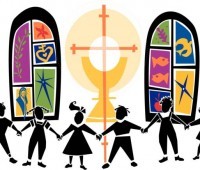 Our religion education program shall present the central doctrines of the Catholic faith in keeping with the norms set by the National Catechetical Directory and in accordance with the Catechism of the Catholic Church.  St. Ferdinand is an apprenticeship in Christian living that provides for the students a complete formation in the Christian life through teaching the message of the Gospel, participating in the life of the community, developing a spiritual life of prayer and worship and reaching out in service to others, especially the poor. The school is deeply committed to living Christ-like by showing daily compassion, understanding, love, support, and concern as Catholics.
As parish school, students are fully prepared to enter into celebration of sacraments of Reconciliation, Communion, and Confirmation.  For all Sacramental Programs, there is a pre-requisite of at least one year of religious education in a Catholic school or religious education program prior to the Sacramental preparation year.
First Reconciliation
The Sacrament of Reconciliation, often called "Confession", is the sacrament in which Christ forgives us our sins and reconciles us to God and our fellow Christians.  First Reconciliation is celebrated in 2nd grade in the month of May.
First Eucharist
The Sacrament of the First Eucharist is received in the Second Grade.  It is celebrated in May.  In preparation for this sacrament, students along with their parents are required to attend weekly Sunday Masses.  Parents must also attend meetings relative to this program.  The preparation of the children is a concerted effort between the Director of Religious Education, Ms. Beata Bosak, and the second-grade teachers.
Confirmation
Preparation for the Sacrament of Confirmation is a process that begins during the candidate's seventh grade year and ends in the fall of the eighth grade year.
Once enrolled, the candidate must fulfill two basic requirements in addition to continued participation in a Catholic school or Religious Education Program.
The following requirements must be fulfilled:
 Participate at weekly Sunday Mass throughout the duration of the program.
 Take part in service hours.
Required religious documents must be furnished for both candidates and their sponsors.  Any and all inquiries regarding the Sacramental Program and their requirements must be directed to Ms. Beata Bosak, the Director of Religious Education at 773-622-3022 ext. 366.