Parent Service Program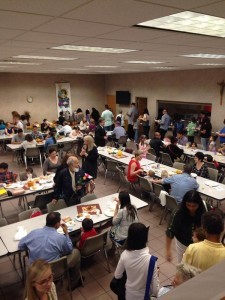 Each family is required to actively support St. Ferdinand School by fulfilling two (2) units in the Service Program during the academic yearas found in School Board Policy A-13. A $250.00 deposit will be collected at the beginning of the year and returned the first week of May if the requirement is completed. Deposits will forfeited and not be returned if the service hours have not been completed.
Opportunities to volunteer and unit values are detailed on page 3 of the tuition agreement packet, as well as the Service Program flyers distributed throughout the school year.
Cooperation with parents and other stakeholders is encouraged through Family Masses, Open Houses, Literacy, Science, History Expos, Open School Board Meetings, and a Back-to-School Sunday Social. Volunteers are valuable in a variety of ways: ushers, lecturers, Eucharistic Ministers,  lunch parent, library, and special event coordinators; fundrising organizers; sport program volunteer, etc.  such as Athletics, Book Fair Committee (October 27th-November 1st), Campbell Soup Label Coor. , Easter Chocolate Sales Bunnies,  Living Stations Costumes / Set Helpers, Marketing Committee, Red Ribbon Week Coor., Recess Supervisors, School Board Member, Track-a-thon volunteer, Wiggles & Giggles helpers. We appreciate the time and talents our volunteers share with us ! You add a rich dimension not only to the school but to our children as well. The students are socially enriched and spiritually nourished from a positive example of your involvement and generous support. Please check a Parent Service Program Sign up form below, visit our office or call 773 622 3022 and as for the current ways to volunteer !
SAINT FERDINAND SCHOOL PARENT SERVICE PROGRAM SIGN UP FORM
If you haven't done it already please feel free to print, fill, sign a form above and bring it to our office. Our staff will be more than happy to connect you with the right person. Mark X next to the volunteering activity you would like to be involved in.
Our Volunteers are obliged to fulfill certain requirements enforced by Archdiocese of Chicago. Please click a link below to see a full list.
VOLUNTEER REQUIREMENTS CHECKLIST
Please consult our office staff which requirements regard to you at: 773 622 3022 during school operation hours.