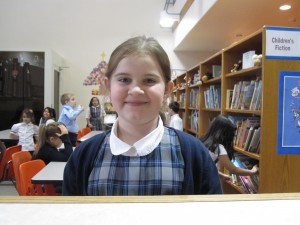 St. Ferdinand library features over 15,000 books for all levels of readers from pre-school to young adults.  The library was overhauled in 2004 converting the check out system from a manual "signing in and out" of books to electronically checking books in and out.  In 2009, Notre Dame's Library was merged with St. Ferdinand's Library offering our students an even wider selection of books.  Every year old and damaged books are weeded out and new books are added in.  These new books are acquired through donations and through Scholastic Book Fair profits.
St. Ferdinand's is a two-tier library and study space featuring a huge and beautiful sky-light.  There is a raised reading pit on the first floor with stadium seating and a network connected audio-visual system.  There is an elevator to the reading pit for handicap access.  The first floor house fiction and non-fiction books as well as study tables.  In addition to the books there are computer stations for research and access to the library inventory as well as other forms of media including reference materials, magazines and audio books.  The second floor also features a net-work connected audio-visual system, a meeting and study space and additional books.
Students attend library once a week.  Activities vary by grade but include checking out books, lessons about library usage and research, writing lessons, reading in groups and listening to stories and of course, quiet independent reading.
.