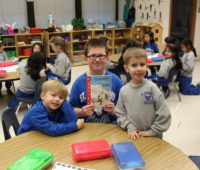 Dear Prospective Parents,
Welcome to our website and thank you for your interest in St. Ferdinand Catholic School. We are here to partner with you in the academic, social and spiritual formation of your child. For over fifty years, we have provided an excellent curriculum in a safe and nurturing environment! Our former students are leaders in local high schools, the community and beyond.
I encourage you to browse our website and see what we have to offer.
Tuition assistance is available, please call the School Office at 773-622-3022 to discuss assistance.
Our tuition rates are competitive with other Catholic schools in the Diocese, and can be found be visiting our  Tuition Page.
When you decide to enroll, you can stop by the school to fill out the registration paperwork, or print it out and bring it with you by visiting our Registration Forms page.