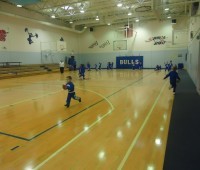 Athletics provide another opportunity for students to further develop their talents and potential. Athletics helps students learn and experience coordination, physical activity, teamwork, individual skills, value of the common good, self-improvement, gracious winning and respectful losing, competing with self and with others, healthy exercises and diet, rules and strategies of a sport, etc. The athletes, parents, and coaches are to always strive to reflect the school's philosophy and mission.Intramural and interscholastic activities complement and enhance a school's physical education program. They are a natural extension of the school curriculum and provide all students with an opportunity to participate in sports activities.
No well-rounded curriculum is complete without athletics. We love to enable our students to further develop their talents and potential. Coordination, teamwork, common goals, selfimprovement, respectful winning, and gracious losing are just some of the skills available to learn through a port. Athletes, parents, and coaches are required to reflect the school's philosophy and mission.
School-sponsored athletic programs are aligned with the school's mission and its philosophy.
The principal is the primary authority over school athletic programs. Our school athletic director is directly accountable to the principal. Only students enrolled in the school may participate in school-sponsored athletic programs.
Volunteer opportunities include coaches, clock keepers, admissions, and concessions. Helpers are ALWAYS welcome and count towards parent-service hours. The Athletic Director is available to respond to concerns involving these programs.
Student accident insurance is NOT available. In order to participate in sports, proof of insurance must be presented at the time of signing up for each activity.
There is a need for volunteer coaches in order to have teams—please contact Athletics Director Linda Ward for more information.
Click here to download Athletics Information and forms
Click here to see our Athletic Programs
St. Ferdinand Sports

12 Photos

6 Photos

9 Photos