St. Ferdinand School is supported by the community in many ways. Parish and community work together to provide the best possible environment for students. Students contribute to annual food drives and service related projects in the Parish that help families in need.  Many school and parish activities are supported by the help of parent volunteers.    St. Ferdinand sponsors many events throughout the year in order to build and sustain a strong sense of community.  Examples include open houses, the annual back-to-school Sunday celebration, pancake breakfasts, breakfast with Santa, Lenten fish fries and other activities that warmly welcome Parish and community members.
Volunteers are valuable in a variety of ways and serve at both the parish and school levels.  Eucharistic ministers, lectors, and ushers help serve our Church, as do people interested in helping to clean the Church.  At the school level, numerous opportunities exist to get involved in the school. A few of our most popular volunteer opportunities include school board members, Book fair helpers, athletics coaches, library helpers, lunch room helpers, set/stage decorators for our Christmas program, chaperones for school field trips, and special event helpers that assist at our back-to -school celebration and Lenten fish fries.  We appreciate the time and talents our volunteers share with us!
Volunteers add a rich dimension not only to the school but to our children as well. The students are socially enriched and spiritually nourished from the positive example of  involvement and generous support.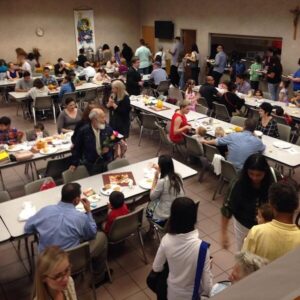 Each family is required to actively support St. Ferdinand School by fulfilling ten (10) hours in the Service Program during the academic year. A $250.00 fee will be added to your April tuition if the requirement is not met.
Opportunities to volunteer are publicized throughout the year in the weekly Thursday newsletters, as well as school emails.
Please contact the school office for more information about the various ways to get involved at St. Ferdinand School.
Our volunteers are obliged to fulfill certain requirements enforced by the Archdiocese of Chicago. All volunteers that will work with our children during the school day need to have completed Virtus training.  Please click the link below to see a full list of requirements for volunteering in the Archdiocese of Chicago Catholic Schools:
Please consult our office staff which requirements regard to you at (773) 622-3022 during school operation hours.