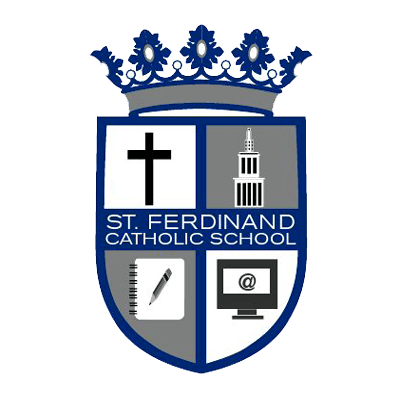 We are Called:  The 2020-21 School Year
at St. Ferdinand School!
"We Are Called" was the Archdiocese of Chicago Catholic Schools theme for the 2020-21 school year.
And, indeed, St. Ferdinand School teachers, staff, and students have been "called," since August, not only to teach, learn and ensure the school days were run like any other school year, but were also "called" to:
Become technology experts – learning through Zoom and submitting finished work electronically more than ever;
Become disease preventionists – always on the look-out for COVID symptoms; having temps taken each morning; sanitizing hands and surfaces all day; and keeping safe distances from each other when learning, eating lunch, or even walking the halls; 
But most of all – to become multitaskers – – – balancing all of these duties on top of providing engaging educational experiences and continuing to learn and grow both academically and spiritually.
AND WE DID IT, EVERYONE!  
Teachers successfully and synchronously taught both in-person and at-home learners while making sure COVID protocols were in place.
Students remained masked all day – and still learned, as evidenced by increased math and reading scores on iReady Diagnostic tests!
Administration and staff members were instrumental in keeping the school running, clean, and financially solvent.  
EVERYONE even continued to be the hands and feet of Jesus through participating in social outreach projects such as the SOUP-er Bowl, Mitten Tree, Cuddle Buddies, and Rice Bowl initiatives.  
And we had fun, too – through Catholic Schools Week, National Reading Week, Red Ribbon Week, and Culture Week activities –   even still celebrating holidays like Halloween and Christmas, as well praying together each morning, at school Masses, and for religious times of the year – – – all with different, safe "spins" to them, but still very real, meaningful events.
Yes, this school year "We WERE Called" to be adaptable and functioning –  but we rose to that challenge!
Through partnership among administration, teachers, staff, parents, students and the Archdiocese – – – TOGETHER we enabled St. Ferdinand School to have a healthy, successful, spiritual, and even joyous school year amidst a global pandemic.  
For this, we all deserve CONGRATULATIONS on a well-done, unforgettable, and unique school year.  
Have a Happy, Healthy, Restful, and Safe Summer, Everyone!
In God's grace and with love,
Principal Erin Boyle Folino 🙂