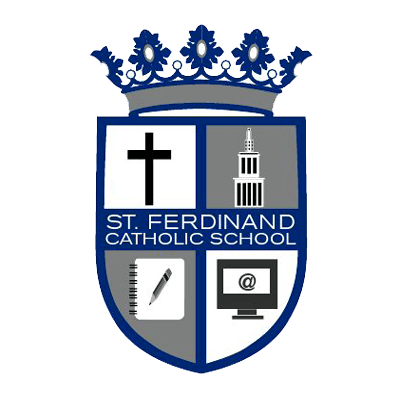 Strength for the Journey:  The 2021-22 School Year at St. Ferdinand School!
(And 2022-23 School Year ahead!)
"Strength for the Journey" was the Archdiocesan theme for all Catholic schools across Chicagoland this year – – – and we surely united our STRENGTHS as families, school, and parish to flourish and grow this 2021-22 school year, despite another year of learning amidst the COVID pandemic:
We nurtured our STRENGTH through FAITH in God.

  We had a beautiful and celebratory Catholic Schools Week Mass in January; wonderful Friday all-school Masses all year; prayerful monthly Family Masses and Confession opportunities; spiritually-nourishing Lenten services; lovely Confirmation and First Holy Communion liturgies in the spring; and joyful, active participation through singing with Sr. Agnes, bell choir with Br. James, and eloquent reading parts at all of these liturgical celebrations.
We shared our STRENGTH through OUTREACH ACTIVITIES.

  We restocked the St. Ferdinand Food Pantry in November; raised money for

Missionaries of the Poor

through Candy Cane Gram sales in December; donated our "Cuddle Buddies" profit to a family across town who had lost all they had in a fire; brought in 4 van-fulls of supplies to be shipped to the victims of the War in Ukraine; and empathized with and donated money to the

Catholic Relief Services Operation Rice Bowl

campaign after our rice-only lunch during Lent.  
We expanded our STRENGTH through LEARNING.

 We took in-depth investigations into different sciences for our Catholic Schools Week Science Fair; celebrated ethnic traditions through our Culture Week festivities; read a whopping 68,000 minutes in our own free time during National Reading Month in March; had many interesting guest speakers from all across Chicagoland share their stories and talents in Library Class; and remained engaged in learning through creative lessons taught by our talented teachers and supplemented by personalized iReady and iXL online instruction.
We enhanced our STRENGTH through the return of EXTRA-CURRICULAR ACTIVITIES.

 Our Boys and Girls Basketball Teams and our Girls Volleyball Teams were patiently, kindly coached and competitive against other schools; our teacher-led clubs made after-school time fun; our Entrepreneurship Club created a winning product that won first place in a city-wide contest; our Student Council cheerily assisted in both outreach and school spirit activities; and our Ferd Family Fun Fridays brought families together again to gather but still have socially-safe fun.  
And, we did it.  We were STRONG.  COVID was here (and even flared) –  but so were we – continuing to blossom socially, personally, academically – and united in Faith.  It was a challenging year in many ways – but, through God's grace, we rose to that challenge and came out a STRONGER St. Ferdinand School Community than ever because of the obstacles we surmounted – TOGETHER:  as a school family within a thriving, faith-filled, loving Catholic community..
May God bless everyone with a wonderful, healthy, safe, and fun summer and prepare us for the excitement of the new 2022-23 school year that is to come!