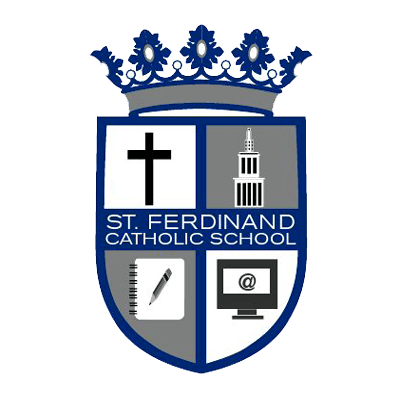 Strength for the Journey: The 2022-23 School Year at St. Ferdinand School!


"Strength – and HOPE – for the Journey" was St. Ferdinand School's spin on the theme for all Catholic schools across Chicagoland this year.
We were hopeful that, as COVID ebbed and the Pandemic subsided, a school year of smooth days would be upon us.
 But, alas, a few challenges came our way…
 And yet, with our Ferd Family STRENGTH and God's grace – we overcame these obstacles – and by spring, we were even flourishing in good news!
 We continued to grow and achieve in our individualized learning plans in Reading and Math – as shown in our iReady Diagnostic Results!
Our Junior Varsity Girls Volleyball Team bumped, spiked, and scored their way to become the St. John Vianney League Champions!
Our 8th Graders competed for the first time in years and earned 2nd place distinctions in the Illinois Junior Science League Regional Competition at Northeastern University!
Our Entrepreneurship Club also came in 2nd place in the city-wide Big Shoulders invention and marketing competition for junior high students!
We hailed in the completion of the new roof (finally!) as student-spectators, athletes, cheerleaders, staff, and parents "PACKED (and played in) the GYM" in April with excitement, cheers, and good vibes!
We celebrated the beautifully diverse cultures that make up our St. Ferdinand School Family with our amazing 1st Annual Culture Fest of ethnic foods, dance, and art in May!
And, of course – we, "put on the whole Armor of God" (Ephesians 6:10-18) as we treated each other with kindness – – – and yet looked outside of our doors to reach out to those in need through our Cuddle Buddy collections for the family of cross-town fellow Catholic student Molly Morris (RIP), Rice Bowl funds for Missionaries of the Poor in Uganda, and our Canned Food Drive to fill the shelves of our own parish food pantry for the needy in the Belmont-Cragin community.
By the grace of God, we hoped, worked, learned, laughed, cried, grew, loved – and continued to build up our collective and individual strengths together.
I am so proud and blessed to be a part of the everyday joy that fills even the most challenging of days in the St. Ferdinand School community.
Principal Erin Boyle Folino