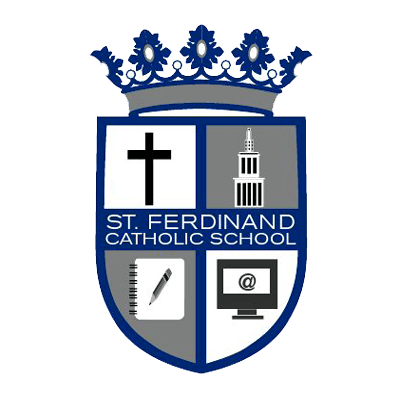 Welcome to the 2020-21 School Year
at St. Ferdinand School!
The Archdiocesan theme is "Angels Among Us."  We'll find these angels within St. Ferdinand life through:
…the Friends, new and old, with whom we play and laugh;
…the Teachers, new and seasoned, through whom we are lovingly taught our lessons;
…the Staff and Volunteers, in the office and around the campus, who feed, assist, clean, coach, and supervise with caring hearts;
…the Religious – Priests, Brothers, and Sisters alike – through whom we experience God's touch;
…the Parents and Grandparents, who support and love us unconditionally while passing on the Faith;
…the Parishioners, who have acted as angels of support for generations of students before us;
…and Me, as the new principal – who promises to work with a sincere heart  to continue to build on the established traditions of excellence that make St. Ferdinand School a happy, respectful, and innovative place of learning, whose graduates are ready to be the inspirational,  transformational "Angels Among Us" the world so needs.
May His angels bless us with loving, healthy, safe, nurturing, smiling days through both hard work and joyous celebrations that make up life at St. Ferdinand School.
In God's grace,
Mrs. Erin Boyle Folino, M.A., M.Ed.
Principal