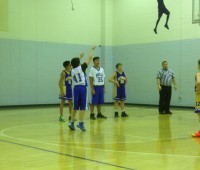 Visit this page often for current information regarding our Basketball program and student activities ! Calendars Achievements and much more !!!!
Girls Basketball
Classic League – Our Girls Basketball Team takes 4th place trophy in 7th grade playoffs Congratulations !
Under the direction of first year coaches, David Feliciano and Diana Blair, the team finished in 4th place in the 7th grade playoffs. The success is even greater if we consider a fact that our team consists of 4th, 5th, 6th and 7th graders. This accomplishment makes our trainers feel excited about next year and gives hope to encourage more girls to join our athletic programs
Girls Basketball Gallery
.
Boys Basketball Gallery
.