Studying and experiencing the arts is the only method through which we comprehend movement and form in an aesthetically human manner. It is through the arts that we hope to help our students more fully appreciate their creation as God's children.
The primary function of music education is the development of responsiveness to the artistic qualities of sound. The study of music should develop child's musical appreciation, knowledge and skills while continuing to encourage his natural spontaneity, love and enjoyment of music. Music experiences therefore should be directed essentially toward aesthetic development.
The elements of music:
The elements of music can be listed or grouped in varying ways. The following arrangement of elements is presented for easy referral by the classroom teacher. With each element and itd definition , objectives have been listed. Selective activities for some of these objectives have been presented for primary intermediate, and junior high.
The inclusion of evaluation within this framework is to emphasize the necessity for stating a musical objective and to logically present the material with that objective in mind. The process of evaluation helps to insure that desired musical growth within our students has been attained.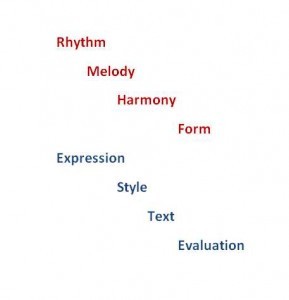 The main objectives of the music program are: 
To gain a historical perspective in human response and contributions to the stimuli of the sounds in our environment and cultures.
To gain knowledge and experience in the elements of music to allow sharing and communication of the child's experiences with others.
To develop child's potential as creators of music in areas of body movement, voice and instrumentation and composition
To gain the knowledge and experience to make discriminating choices and / or value judgements.
All will be achieved through age adjusted activities and methodologies under guidance of professional music specialist Dr Brother James Drangsholt (Director of music and liturgy at St. Ferdinand Parish) Click here to read more about Dr Brother James Drangsholt
Music Gallery
.