Sunday, October 6th, 2019 at 7:28 pm
Happy Feast Day to Brother James! October 4th was the Feast of Saint Francis …. and our Brother James is a Franciscan Brother. Brother James celebrated by preaching about St. Francis during School Mass. 1st grade shared in the celebration with him by making paper animals that they took to Church and presented in honor of St. Francis and his great love for all creatures.  Let us take a moment to thank Brother for his many years of Religious life, and say a prayer of thanksgiving for him!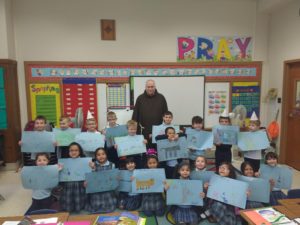 Both comments and pings are currently closed.