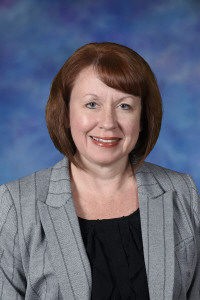 My name is Mrs. Erin Boyle Folino, and I am thrilled to be starting my 2nd year as Principal of St. Ferdinand School.

I was born in Chicago, but have resided in Des Plaines for most of my life. I have been married to my husband Paul for over 20 years, and we have 3 daughters: Tara and Ari attend Resurrection College Prep High School (my alma mater!) in Chicago, and Elissa "Lisy" is in junior high at St. Emily School in Mount Prospect.
I am a product of Catholic schools: St. Mary Elementary School in Des Plaines, the aforementioned Resurrection High School, Loyola University for my undergraduate degree in Education with a minor in English, Concordia University (well, that's actually a Lutheran school!) for my first Master's degree in Curriculum and Instruction, and DePaul University, for my second Master's degree in Educational Leadership with a Catholic School Principal Preparation Concentration.
I began my teaching career at St. Maria Goretti School in Schiller Park, where I was the 8th grade Homeroom and Religion/Confirmation preparation teacher, as well as the junior high English and Spanish teacher, for 8 years. I then took a break from full-time teaching while my daughters were young, working part-time jobs as a substitute teacher, weekend children's programming instructor at Triton College, and as a tutor. My return to full-time teaching brought me to the same school my daughters were attending, St. Emily, where I taught both Spanish and Technology/Computers to all grades, Pre-K through 8th, for six years. My family is actively involved in St. Emily parish and school, and my ministries include: lectoring, fest planning, and instructing in Children's Liturgy of the Word, as well as volunteer work with moderating the Girl Scouts and cheerleading programs. Over the years, I have been honored and humbled to have been nominated for awards for both my teaching and volunteer work, such as the Archdiocese of Chicago's Heart of the School Award, the Golden Apple Award, the Golden Eagle Award, and publication in Who's Who in America's Teachers.
When not teaching or volunteering, I enjoy hanging out and laughing with those I love most – especially if that involves attending concerts, dances, comedy clubs, a Zumba class, or a Chicago White Sox game! One interesting tidbit about me is that, since 4th grade, I have signed my name with a smiley face, and because of this, I have amassed an extensive smiley face collection, with pieces purchased for me by students throughout my teaching career. A portion of this collection is on display in the principal's office!
Fr. Torba and I have discussed areas in which the faculty, staff, and I will focus on improving for the upcoming school year. This includes continuing to strengthen school vitality through increase in student enrollment and updates in school curricula – with special emphasis on the Math, Reading, Religion, and Sacramental reparation programs.
I am looking forward to continuing to build upon the tradition of faith and academic excellence at St. Ferdinand School!
🙂