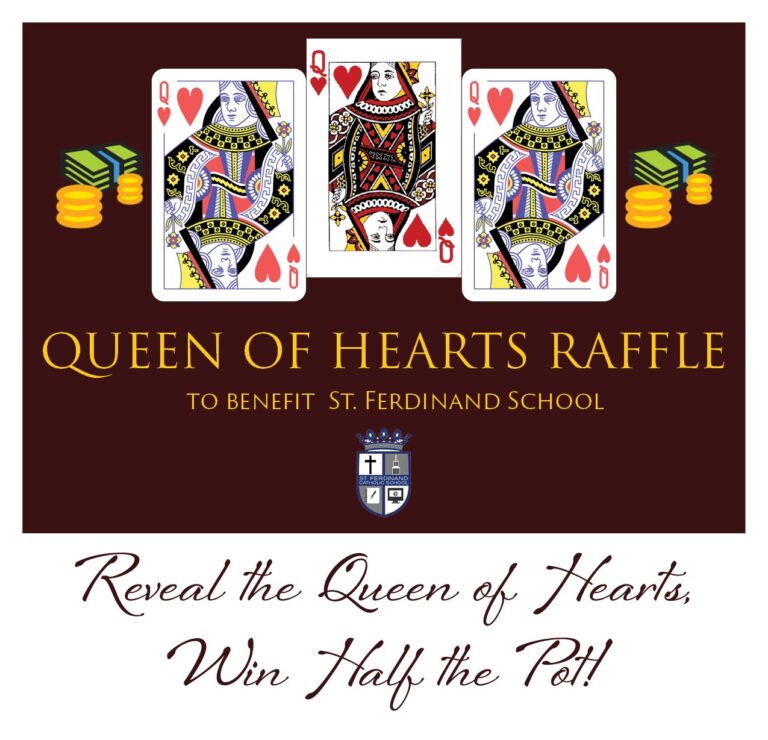 Join the fun and test your luck in our  Queen of Hearts Raffle!  We began this is 2020 … and then due to Covid, had to put the raffle on hold.  We are resuming the Queen of Hearts Raffle at the 2022 Fish Frys, and continuing from where we left off in 2020.
Tickets are sold during Fish Fry or at our school main office. Weekly drawings will be held at St. Ferd's during the Fish Fry on Friday nights at 7:15pm.  After the last Fish Fry, the raffle will then move to Ashley's Cafe (7500 W Grand, Elmwood Park IL) if the Queen is not found.  For the latest, follow our school's Facebook Page
How it works: Buy a raffle ticket and indicate on that ticket which numbered playing card you'd like to select from our game board. Every week, we will draw one raffle ticket and then select that numbered card from our board. If it's the Queen of Hearts, you get to take home half of our pot of cash! If not, the pot rolls over to the next week!  As a consolation prize, you will receive 3 tickets to the next week's drawing.  If you uncover a Joker, you win $50 ($100 for the 2nd joker).  You need not be present at our drawings to win.  The raffle will benefit St. Ferdinand School.