Breakfast With Santa
Thursday, November 14th, 2019 at 4:18 pm
All are invited to our Breakfast with Santa event!
Sunday, December 8, 2019
9:00AM – 1:00PM
Activity Center
Enjoy a continental breakfast, photos with Santa, performances by our students, raffles and a special gift bag for each family.
$10 per person in advance
$25 for families of 3 or more
$12 per person at the door
Advance tickets recommened
Call 773-622-3022 for more information / tickets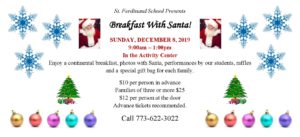 Both comments and pings are currently closed.