Calling All Veterans, Nov. 8!
Tuesday, October 22nd, 2019 at 8:15 am
Upcoming Event:
CALLING ALL VETERANS!
Come celebrate early Veterans Day with St. Ferdinand School students on Friday, Nov 8!
8:15 School Mass & Blessing
9:15 Coffee & Donuts
9:30 Visit Classrooms and Talk
11:30 Lunch
Please RSVP to the school by Fri., 11/1:  773-622-3022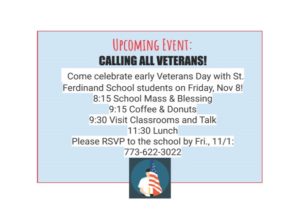 Both comments and pings are currently closed.