March 27th Open House
Friday, March 15th, 2019 at 11:08 am
Join us for an Open House on Wednesday, March 27, from 5:00PM – 7:00PM. Come take a tour and see what our school has to offer!
St. Ferdinand offers half day and full day preschool starting at age three. Full day programs are offered for kindergarten through grade eight. There are Title 1 programs and foreign languages offered. Sports, scouts and after school enrichment opportunities are also available plus before and after school care.
St. Ferdinand offers a faith-based, technology-rich education.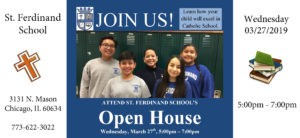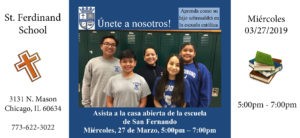 Both comments and pings are currently closed.